Archive for the 'Asides' Category
Guess who's back, back again? Now that I'm a working man (more of which, I promise, will come in due course), writing for a living, it's about bloody time I pulled up the bootstraps on this here blog and blew the dust off it a little bit.
So, musings and opinions to come in full flow in the days and weeks to come (not least helped because I'll have a new laptop by then) but in the meantime, a practical one that seems a little bit uncovered by the world at large: how to make an iPhone ringtone from an mp3 file.
This how-to was prompted by Red Mum's tweet earlier seeking guidance on it, frustrated that there's an overwhelming amount of paid-for software out there that professes to do a job that any iPhone owner can already do for nothing – without having to download a ringtone from the iTunes store.
(I should add for the benefit of anyone with an AAC file – identified by the file extension .m4a – is already most of the way there, and you can skip down to Step 7.)
So – here goes nothing.
1. Open iTunes and find the file that you're looking to convert. As a presumptive iPhone user, I can be fairly confident that you already have iTunes installed. If you're one of the new that doesn't, then I'm afraid the usual tactic of manipulating free software like Audacity doesn't work (or, at least, not to my knowledge anyway) because it can't export the file type you'll need. You're also going to need iTunes to put the ringtone on your phone in the first place, so you're a little flummoxed here.
If the file you're looking to convert isn't in the iTunes library, simply play it in iTunes or drag it into the iTunes window and it'll add.
2. Hit Control (or the Apple key) and comma to open the Preferences window. You'll need to get in here to change the type of file that iTunes burns by default – more on this in a moment.
3. On the 'General' tab, after the 'When You Insert a CD' option, hit the 'Import Settings' button. This is the option where you tell iTunes what kind of audio files you want it to create when you rip a CD into your music library – you can, if you want, rip the tracks into a size-guzzling .wav file or into a more bog-standard .mp3 file.
This feature has more than one function, though, because you can also use it to convert files that are already in your library to other formats. So, if you wanted to make a .wav file out of an mp3 you already have (or, more probably, the other way around), you can use this iTunes feature to do it.
4. In the window that pops up, on the 'Import Using:' drop-down menu, choose 'AAC Encoder'. This is the format that you'll need to turn your file into before iTunes will recognise it as a ringtone.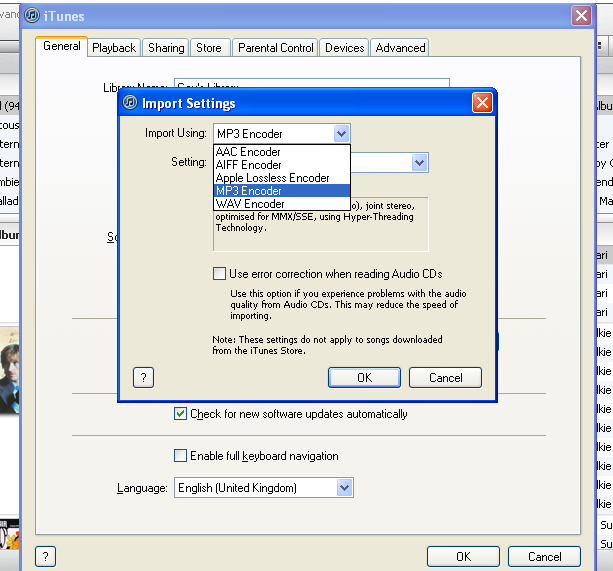 As long as you choose AAC, you can leave the other settings as you like them. Click OK and exit from all the pop-ups until you're back looking at the file you want to convert.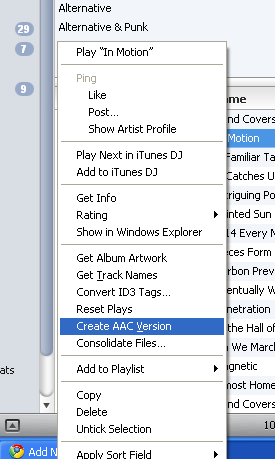 5. Right-click the file you want to use as a ringtone, and choose 'Create AAC version' (pictured right). The file will begin to convert into an AAC file. When it is done, you'll hear a three-note jingle that you might recognise as the default SMS tone on the iPhone.
6. The converted version of your file will now appear in your library just below the original file. See it? It should look almost identical to the previous one. Now right-click the file and click 'Show in Windows Explorer'  (or, 'Show in Finder' if you're on a Mac). A window will pop up showing where the file is on your hard drive.
7. Rename the file extension from .m4a to .m4r. This is pretty much the only fundamental change you'll be making to the file. In a Mac, the file extension should appear at the end of the filename by default. In Windows, if you just see the name of the song and not a file extension, then follow these instructions to display the extension.
(If you're a little like me and can't stand having an iTunes library with dead links in it, at this point you should go back into iTunes and delete the duplicate file from your music library because the file – songname.m4a – technically doesn't exist any more.)
8. Double-click on the newly-renamed file and it will open in iTunes as a ringtone. Voila! Now that it's in your iTunes library as a ringtone, you can drag it onto your iPhone or tell iTunes to sync it when you next plug your phone in.
As a housekeeping measure, you might want to go back into Preferences (again, Control and comma) and change the import default back into an MP3, which makes your files more universally usable. Of course, if you weren't ripping MP3 files to begin with, then there's no such problem.
Hope you find this useful. 🙂
So – hello again; again, apologies for my ludicrous absence from these here parts, the day job has exhausted my writing muscles for the last two months or so but as things wind down for the mid-term break I find myself with a little more time to flex them back here.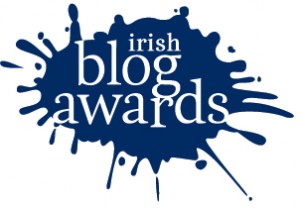 Also, before I begin, I owe some gratitude to the kind soul(s) who saw fit to nominate me in the Irish Blog Awards in the Best News/Current Affairs category – I hardly think I deserve to be in such high esteem, especially given the others who've made the same shortlist, but to whoever thought me worth nominating: thank you, I'm honestly quite humbled.
Anyhoo, to my point.
In the last few weeks my mind has been significantly occupied by the subject of body image – begetting a feature on male eating disorders for The University Observer which I might cross-post in the coming days – but while out shopping in Dublin earlier today, a particular though crystallised in my mind. I'll add the pre-emptive caveat that yes, I'm a man, and no, I'm not a horrific chauvanist pig because I reckon a lot of what I say below refers to men too, but obviously to a lesser degree.
Now, I know that beauty is in the eye of the beholder and all that, but at some point in the last two or three years years, there seems to have been some kind of major departure between 'fashion' and 'beauty' – namely, that two concepts which in theory should go hand in hand have become if not total opposites, then uneasy bedfellows indeed.
As we were out shopping – the missus was out hunting for a dress – it became very obvious that very few high street fashion chains cater for what we might call the naturally-shaped woman. Most women, we might all agree, have boobs, a bum, and generally (whether they think it's ideal or not) exhibit some degree of curviness. Yet, visit any high-street fashion chain and the extreme majority of them seem, at the moment, to cater solely for six-foot-nothing waifs. That's all well and good for haute couture but when you're looking at a commercial market for a country where most women aren't six-foot skinnies, it's both economically daft and mentally damaging.
Most women aren't skinny or tall enough to fit the clothes that high-street chains see fit to bring to the mass market – but not that this seems to matter to oodles of retailers who overlook the commercial reality of what might actually work. But that's not really the crux of my point.
It genuinely seems that of late, what is deemed 'fashionable' bears only a tangential reality to what the majority of us actually find aesthetically pleasing – or, if you will, 'pretty'. Where presumably the origin of 'fashion' as a notion was to combine the aims of augmenting the body's own beauty and some sort of edgy innovative design flair, of late the former goal has been thrown out the window as what is deemed 'fashion' is merely whatever seems the most striking.
It's gotten to the point where shops are selling outfits (dresses, tops, whatever… I'm not good with the terminology) that don't try to flatter the wearers at all, but seem intent on making them look as daft and dingbatty as they can. Lady GaGa – though undoubtedly not meaning to – has merely furnished the trend of clothes that almost seem to spite the wearer; her lightning-bolt-over-one-shoulder thing now seems to pervade every store, leading shops (who still trip over themselves to portray themselves as haute couture when, though people admire it, they'd never want to wear it themselves) to start stocking similar stuff, hoodwinking regular people into looking like absolute idiots for the sake of being trendy. The problem is that nobody looks at Lady Gaga wearing a crow's nest around her head and goes, "Wow, she looks beautiful", they go, "Wow, that's… eh… striking" – but nobody tries to distinguish the two any more.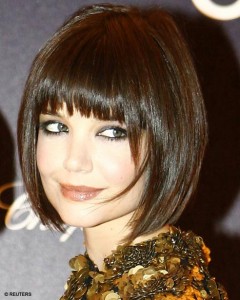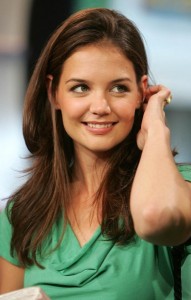 It's gotten to the point where honest-to-god beautiful women like Katie Holmes get ludicrous, asymmetric, uneven, scraggly haircuts because the fashion gods on high decree them to be on the stylistic button – full in the knowledge that they'll look all the lesser as a result.
Maybe it's just me being some kind of boring traditionalist but if more shops did what Karen Millen do – make decent dresses for your average curvy bird (though, that said, I saw a few one-shoulder monstrosities in there earlier too) – and stopped trying to feed people fashion when it's that fashion that's leading people to such insecurity, we might be a whole lot better off.
Penney's does brilliantly for a multitude of reasons, and not just because it's dirt cheap.
…and I wanted to capitalise on the Sterling/Euro exchange rate, I would ensure that Royal Mail delivery to the Republic of Ireland was cheaper than it was to the rest of Europe.
Isn't it weird that it's the same price for someone in Enniskillen to send a package to Drogheda using Royal Mail as it is to Athens? When so much of Ireland's discretionary spending is done through the means of online shopping, and when so many of the biggest online retailers – Amazon, Play.com, et al – being based in the UK, and when we're so culturally dependent on the UK to begin with, why not stimulate the British economy that little bit by reflecting the proximity of the Republic and making delivery appropriately cheaper?
Just a thought.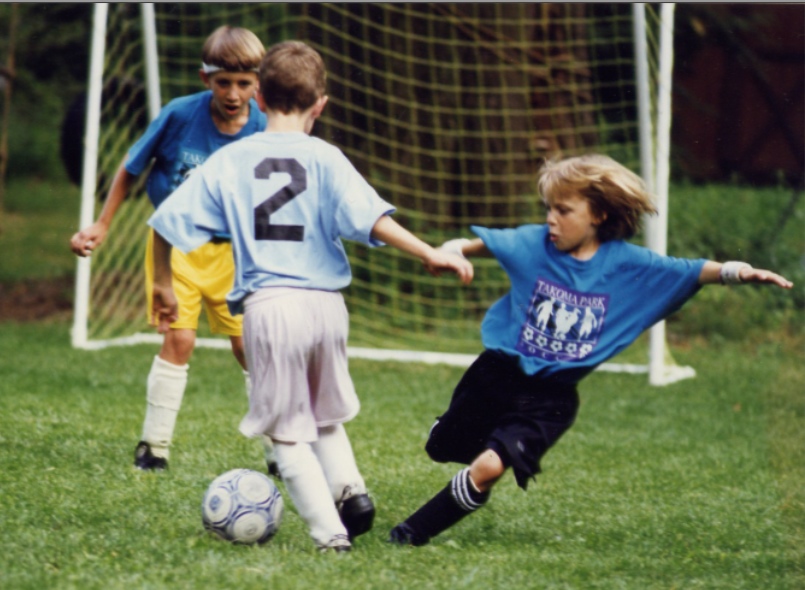 In sporting terms, how young is too young? When does a kid grow old enough to understand that following a football isn't the most effective strategy for goalscoring, so much as making oneself available in empty space to advance an attack? There's an episode of Cold Feet on in the background here where Jimmy Nesbitt's character is training an under-8's soccer team, making them do laps and call him 'coach', only for the children to completely destroy his Mourinho-esque tactical genius by swarming around the ball.
At work recently it's been something that's been on my mind a little bit. At what point does a kid become old enough to sacrifice short-term gain for more medium-term success? When does a child begin to comprehend the benefit of staying in position, or of doing that bit of extra homework, or keeping someone sweet for more medium-term explotation?
What's the first time you can remember of you being able to comprehend the benefit of a degree of sacrifice?
In a slightly-scheduled interruption to regular service, a quick plug for the missus's new social venture.
Dublin Twook Club is, well, on the face of it, mostly self-explanatory. It's based in Dublin – well, actually, specifically in @119leesonstreet – and it's a book club, organised over Twitter! Thus, Twook Club! (I had suggested 'Page 119' but someone had taken the Twitter username.)
It's a fun, social, and informal monthly get-together to gather round with a drink or two and chat about, well, books, plus inevitably whatever else is tickling your fancy now. Monthly meet-ups will be in our gaff, the aforementioned 119, and co-ordinated through the @DublinTwookClub Twitter account and through the blog Ciara's set up for the purpose, at http://dublintwookclub.wordpress.com/ (where hopefully I'll have some sort of sign-up mechanism later on).
Importantly, though, we're not restricting this to Twitter users, so we'd appreciate if you'd spread the word – just click http://short.ie/TwookClubRT to retweet the message. There's honestly no limit to the membership so tell anyone who might be interested.
So… go get started. Tweet your suggestions on what the first book we cover should be to the @DublinTwookClub Twitter account, and keep an eye on the DublinTwookClub blog – and of course the Twitter – for more details.