In the last week I've happened to find myself in two different museums – the Irish Museum of Modern Art in Kilmainham, Dublin, and the rather excellent Ulster Museum at the Botanic Gardens in Belfast (the latter comes particularly recommended – it's basically a Best Of museum with brilliant stuff across all disciplines).
Two thoughts struck me as I wandered around both: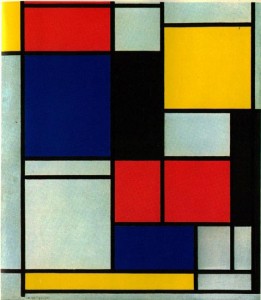 – Isn't there something sad about the fact that, although having a famous artist's collections distributed around the world means more people have greater access to them, you can't go to any one place to see an entire artist's collection? I was meant to be in Amsterdam earlier this week (cheers, Eyjafjallajokull). It would make sense that I would be able to take in the entire collection of Piet Mondrian – an artist whose works have always been particularly striking to me – while in his hometown, or at least his home country. Yet, I saw some of his stuff in MoMA, New York, and more of it in IMMA last week.
Isn't it sad that there aren't individual go-to places for this kind of stuff? To me it's a shame that there's nowhere where you can see every non-privately owned Warhol / da Vinci / Monet/ Mondrian / whoever.
– Being a geek, and as something of a corollary to the first thought, it strucke me as a shame that that whatever about the merits of having all an artist's work in one place (because, fair enough, people are allowed to have private collections in one place or another) – why isn't more of an effort made to harness the internet in allowing people enjoy art from a distance? Why should I have to go to IMMA or the Ulster Museum or MoMA to enjoy a piece of art on tour? Why can't the Roy Lichtenstein Foundation reproduce graphics of every piece of work the guy painted?
And, more pressingly, why don't more people create more art for the internet? It seems to me that nobody creates artistic exhibitions made directly for the screen (other than in video form, but I mean in the more traditional sense of exhibition – static artwork and words, etc).
Here's an idea: make an exhibition that instead of being limited to one place at any one time, exists everywhere for everyone to see. Set up a website, ask people to hit F11 and click the 'Enter' link, and use the screen to create and showcase art.
It's something I've been pondering, and something I might revisit. Watch this space.
(And yes, I haven't blogged in ages. Suffice it to say I've been sleeping up.)
4 Responses to 'On art'
Leave a Reply
You must be logged in to post a comment.