This page was originally published in December 2008, and last updated in (I think) February 2010.
It's pretty outdated; I'll get around to updating it properly some day, but in the meantime my LinkedIn will tell you everything you might want to know about what I've been doing in the last four years.
~~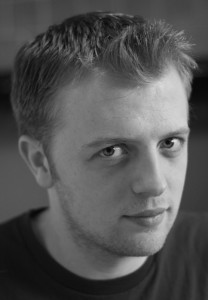 Right, so who are you, then?
I'm Gav. Hi there.
Haha, very funny. But who are you?
OK – well, my name is Gavan Reilly, but my friends/everyone calls me Gav (which, admittedly, is easier to spell too).
I come from Co Meath in the Republic of Ireland, about 40 minutes' drive from Dublin – here's a map – but I'm now based in Dublin full-time. Our house has a Twitter and a Foursquare.
I'm 23 and a graduate of UCD, where I was awarded a Bachelor's Degree in Commerce (International) and German – I was given a 2:1, if you care. As part of my course I spent 2006-07 studying abroad at the University of Passau, in Bavaria, Germany (map).
Ah, ok. And what else do you do?
Well, a little bit of everything, really. Online I blog here and at Every Day is Election Day (the latter with my other half, Ciara). I also write and review music at Cluas.com, and have contributed occasionally to The Spanner, a satirical mag.
My day job is the position of Deputy Editor at The University Observer, Ireland's most-read student newspaper with a print run of 10,000. My duties there entail everything from co-ordinating content for the printed page, to selling advertising and liaising with advertisers, to helping with design, to establishing the paper's website and podcasts (search for 'University Observer' in the iTunes store) – and, of course, writing a significant amount. A portfolio of my work for the Observer can be found here. I'm in the process of getting a full portfolio site together at the moment and will post a link here when it's completed.
During my time in UCD I've also been:
a UCD Choral Scholar (2004-05)
Secretary of the UCD German Society (2005-06)
an intervarsity debater for UCD, through German (2006)
a longtime writer for the University Observer newspaper

Music and film critic (2005-06)
Columnist ('Culture Shock', written while on Erasmus, 2006-07)
Features writer (2005-06, 2008-09)
Online Editor and website creator/admin (2008-09)
Deputy Editor (2009-10, full-time)

a presenter on Belfield FM (Poprocks Chart Show, a daily 90-minute show, 2005-06) and occasional news contributor and panellist since then
heavily involved in UCD Students' Union

Union Secretary (2005-06)
Chair of Council (2007-08)
Member of the website editorial board (2005-08)
Accommodation & Employment Officer (2006-07 – this job was full-time; I took a year's leave from study)

A part-time employee for the University itself administering the UCD Student Events Calendar at ucd.ie/events (2008-09)
In 2009 I was named Web Designer of the Year at the 3 National Student Media Awards for my work establishing The University Observer's website; I was also shortlisted for the 2009 Irish Web Awards in the Best Online Publication category for the same site.
Also in 2009, I was chosen for a UCD President's Award for Excellence in Student Activities, in recognition of my work in the extra-curricular life of the University.
During college holidays I've been an intern at:
In second-level, where I attended St Finian's College in Mullingar, I was a contributor to the dearly departed Student Xpress national paper. In St Finian's I was a member of the Schola Cantorum scholarship programme for the duration of my five years, where I studied piano and organ intensively, as well as a number of other instruments.
While enrolled in St Finian's I participated twice in the Irish Mathematical Olympiad (2003 and 2004) while being tutored at the National University of Ireland, Maynooth. I also represented Ireland at the 44th International Mathematical Olympiad in Tokyo, Japan in July 2003.
As you might have picked up, I do a bit of web design on the side – if you want to enquire about that, please get in touch via the contact page. I also play organ and piano on demand at wedding and funeral ceremonies so drop me a line in that regard too. (My mother is a pretty nifty singer, we're a real von Trapp-style double act.)
To request an up-to-date copy of my CV click here.
Ah. That's a bit more helpful.
Excellent. Well, I hope you enjoy your reading here, and please do comment on anything you find at all interesting. If you like, you can also follow me on Twitter, befriend me on Facebook, or connect with me on LinkedIn.
One Response to 'About Gav'
Leave a Reply
You must be logged in to post a comment.