Archive for the 'Kilkenny People' tag
A piece published in today's Kilkenny People on the perpetual debate about whether Kilkenny is a city or not. It's lucky that this place is such a hurling stronghold; I'll be needing a few helmets today with the stoning I'm bound to get.
—
It's a debate that has plagued Kilkenny for decades, and a bone of contention that follows city natives wherever they go. It's the classic clash of history versus the modern era; of sentiment versus realism; of past versus present.
And still the question burns: is Kilkenny really a city?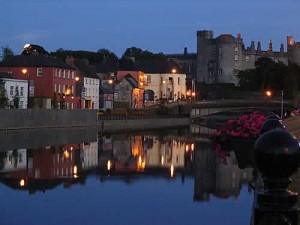 Those with a firm convinction will point to a few historical truths: Kilkenny was given a formal Royal charter declaring its city status in 1609, having notably celebrated the 400th anniversary of this date in the year just passing.
Others will, with justification, refer to the Confederate era – when for eight years, between 1641 and Cromwell's arrival in 1649, Kilkenny was the nation's capital. After all, who has ever heard of a 'capital town'?
Looking beyond this, some would suggest that the charter conferred in 1207 by William Marshal, the first Earl of Pembroke – issued as constuction got underway on both St Canice's Cathedral, the ancestral fulcrum on the town, and Kilkenny Castle – gave the town its city status. Though Marshal's charter used the word 'town', it's a matter of some debate whether the term 'city' was in wide usage in Ireland at the time. Proponents argue that, were the term 'city' applied at the time, Kilkenny would have easily merited it.
History, though is one matter; one could argue with the same veracity that Tara, in Meath, should merit city status having been the royal seat of Ireland in past millennia. The modern truth is a seperate matter.
So: where to start? A quick browse on every youngster's favourite source for wholesale academic plagiarism – Wikipedia – leaves a confusing impact. "Kilkenny is described as a city", it opens, before later continuing that the 2006 Census showed "the 'Aggregate Town Area' to have a population of 30,942", but saying in the very next breath that this year "the 'City of Kilkenny' or 'Kilkenny City' celebrated its 400th since the granting of city status in 1609."
It transpires, though, that even Wikipedia has been the site of some hostile debates on the subject. A quick glance at the 'Discussion' page – where users are asked to discuss significant amendments to articles before they are put in place – shows a long and sustained argument about whether the undeniable truth of Kilkenny's one-time cityhood should be considered applicable in the modern age. So: very little help there.
How about elsewhere on the internet? A quick browse leads to a thread on a tourism website where the administrator has asked the simple question: 'Is Kilkenny a city'?
Input, as one might expect, is once again divided. "Would you all just stop this ridiculous nonsense?" appeals Drina. "It's not called the Medieval City and the Marble City for nothing, you know! Kilkenny is a city."
"Hell no, it's not a city," counters Orla. "It's the towniest town I've ever seen, and I should know because I live in the TOWN centre!"
Even with the natives, alas, no resolution. One contributor, Michael, sums it up best: "I grew up on High Street and was always aware that I lived in Ye Faire City… but we always met our friends 'on the town' or 'down the town' and we spent a lot of our free time walking up and down the town, in our …city?"
Seemingly, the internet will offer no consensus, and we must visit more formal legislation to resolve this conundrum.
Enter the Local Government Act 2001, which lists Ireland's towns and cities, but declines to offer any clarification of how they are identified. The cities are: Cork, Dublin, Galway, Limerick and Waterford – and absolutely no mention of Kilkenny, which is listed formally as a 'Borough' – some sort of offspring limbo, dangling between the statuses of 'city' and 'town', along with its illegitimate siblings Clonmel, Drogheda, Sligo and Wexford.
It seems the strictest definition of Kilkenny's status is interrelated to the status of counties. Cultural identity and GAA teams might lead us to forget, but there aren't 32 counties in Ireland any more, there are significantly more. Dublin is considered a city because its territory does not fall within the remit of a County Council – the areas outside Dublin City are administered by the County Councils of Fingal, South Dublin, or the ineloquently-titled Dún Laoghaire-Rathdown. Similarly, the area of Cork City is outside of the jurisdiction of Cork County Council. Not so with the local authorities of towns and boroughs, whose jurisdiction is complementary to that of the County Councils.
All of this, however, is coloured by a declaration early in the Act. The section that outlines the areas governed, and terms of reference, of the country's City Councils, "is without prejudice to the continued use of the description city in relation to Kilkenny, to the extent that that description was used before the establishment day and is not otherwise inconsistent with this Act."
Aha! So Kilkenny can be referred to as a city, but not in a way that portrays it as actually being one.
Glad we cleared that one up, then…
As I typed the original title of this post, '2-0 up', Antonio Valencia scored.
It's a midweek Tuesday and I'm watching Manchester United beat Wolves on a not-in-any-way-illegal-I-swear online broadcast, having just read Declan Lynch's excellent book Free Money, a tome I'd highly recommend and one I'd been (he wrote an extended preview for it in the otherwise meritless Sunday Independent in May, definitely worth a read if you're not the book-buying type).
Declan is a sportswriter for the aforementioned Sindo, and is – by his own admission, though he makes a compelling case for not using the term itself – an alcoholic. Free Money is about a nine-month project of turning €100 into… well, whatever his instinct and sporting acumen will allow him. As someone with a more-than-everyday familiarity of the worlds of journalism and addiction – worlds that one fears might be a little bit less distant than one would first suspect – and writes with particular eloquence about the addiction industry and its craft with words.
A therapist would reply that in taking the positives I'm 'rationalising' it, that I am using mere words to give myself a false impression, and to keep betting.

Words, words, words, the therapist would say disdainfully. Words are nothing, it is all about feelings.

[…]

I take it personally when I hear these people denigrating about words, words, words because I know something about words. I make my living out of words, and I can assure these people that words are not mere objects that the mind produces in the absence of feelings, they are not 'mere' in any way.
I set up this blog – or, at least, this edition of my blogging life – in the second-last week of December 2008. My intention was to post one blog per day, trying to work myself into the habit of writing at reasonable length on topics that I may not necessarily be particularly interested in, or motivated by. It was to fall between every stool going; one day it'd be about Stephen Jones missing a last-minute penalty to seal a Grand Slam for Ireland, the next it'd be about staying motivated to work in journalism, on a student newspaper that offers infinite reward but horrific wages.
To an extent – and I guess I've done okay in this regard – it has been that; Thinking Out Loud is a blog about nothing in particular. The only problem is that between the day where it's been about Ireland winning at rugby and the Sunday Tribune being abject failures at covering gaelic games, there's been ballooning voids of silence where Thinking Out Loud wasn't a blog about 'nothing in particular' but rather 'nothing at all'.
I might surmise that a lot of the problem with trying to write a blog about 'nothing in particular' is that the writer is so easily distracted and captivated by such a broad spectrum of topics that inevitably the devotion to any one subject – including the very act of blogging itself – is lost amongst everything else. But alas.
Which is why a book like Free Money works so very well. It's a real journalistic endeavour, trying to gain genuine insight into the act of gambling, figuring out what its real function is, offering commentary on how the gambling industry tries to package and present itself as being the modern equivalent of sitting around with a board game… and yet, it flirts with the darkest nether regions of the habit and of the soul itself, contemplating the horrors of addiction from the part of someone who has genuinely been there.
I'd be lying if I said I was watching this United and Wolves game (still 3-0, into injury time) and not wondering what it might be like to have a punt on it, pitting my wits against the probability of the universe and earing financial gain for it. It's a strange impulse and thankfully, for me personally, it's one that comes and goes. I started into the habit of putting small-stakes accumulators on weekend cycles of Premiership games last April – as a part-time amusement to get me through the tedium of my finals – and by the end of the season I was impatient that I'd lose three months before I had the chance to place any more. And yet, I don't think I've placed any more than three this season, maybe because given the day job I don't get the chance.
It's a strange impulse though. There's always that fleeting moment where, drunk on the lethal cocktail of arrogant self-belief and the acute desire to make financial gain, one could casually log onto a sports exchange website or an online casino and risk it all on the flip of a coin, the width of a goalpost, or the fall of a ball on a 21st century roulette table where every number is a 1 or a 0.
Such are the small margins between immense wealth and chronic destitution – the flip of a switch between a 0 and a 1.
Tomorrow, as a result of a string of 1s involving my getting a placement in the first place, and subsequently the nature of the workplace and the circumstances of the breaking ball, I'll be seeing a printed copy of my first front-page story for a reasonably major regional newspaper. Later this week I'll be getting a headshot done. This weekend I'll be going to a birthday party, and having good food with friends, and spending time with my nearest and dearest.
ABE:
If you can make one heap of all your winnings
And risk it on one turn of pitch-and-toss,
And lose, and start again at your beginnings,
And never breathe a word about your loss,
…you'll be a man, my son.

HOMER:
You'll be a bonehead.
2009 might have been, on my scorecard, largely comprised of 1s, but I refuse to concede that the laws of probability have 0s in store. Better golfers get luckier more often, they say. I prefer to think of it as people making their own luck. If I don't blog again before 2010, I'll regret it, but I'll be doing my best to make sure that it's because I've been coming up tails and rolling sixes.
By the end of Free Money's nine-month narrative, Declan Lynch had turned his €100 into… almost precisely €100. 2009 has been pretty good to me thus far (touch wood), and with any luck 2010 will treat me the same way: 3-0 up.
With any luck.