Archive for the 'Kilkenny City' tag
A piece published in today's Kilkenny People on the perpetual debate about whether Kilkenny is a city or not. It's lucky that this place is such a hurling stronghold; I'll be needing a few helmets today with the stoning I'm bound to get.
—
It's a debate that has plagued Kilkenny for decades, and a bone of contention that follows city natives wherever they go. It's the classic clash of history versus the modern era; of sentiment versus realism; of past versus present.
And still the question burns: is Kilkenny really a city?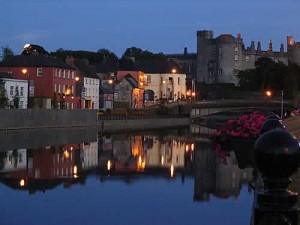 Those with a firm convinction will point to a few historical truths: Kilkenny was given a formal Royal charter declaring its city status in 1609, having notably celebrated the 400th anniversary of this date in the year just passing.
Others will, with justification, refer to the Confederate era – when for eight years, between 1641 and Cromwell's arrival in 1649, Kilkenny was the nation's capital. After all, who has ever heard of a 'capital town'?
Looking beyond this, some would suggest that the charter conferred in 1207 by William Marshal, the first Earl of Pembroke – issued as constuction got underway on both St Canice's Cathedral, the ancestral fulcrum on the town, and Kilkenny Castle – gave the town its city status. Though Marshal's charter used the word 'town', it's a matter of some debate whether the term 'city' was in wide usage in Ireland at the time. Proponents argue that, were the term 'city' applied at the time, Kilkenny would have easily merited it.
History, though is one matter; one could argue with the same veracity that Tara, in Meath, should merit city status having been the royal seat of Ireland in past millennia. The modern truth is a seperate matter.
So: where to start? A quick browse on every youngster's favourite source for wholesale academic plagiarism – Wikipedia – leaves a confusing impact. "Kilkenny is described as a city", it opens, before later continuing that the 2006 Census showed "the 'Aggregate Town Area' to have a population of 30,942", but saying in the very next breath that this year "the 'City of Kilkenny' or 'Kilkenny City' celebrated its 400th since the granting of city status in 1609."
It transpires, though, that even Wikipedia has been the site of some hostile debates on the subject. A quick glance at the 'Discussion' page – where users are asked to discuss significant amendments to articles before they are put in place – shows a long and sustained argument about whether the undeniable truth of Kilkenny's one-time cityhood should be considered applicable in the modern age. So: very little help there.
How about elsewhere on the internet? A quick browse leads to a thread on a tourism website where the administrator has asked the simple question: 'Is Kilkenny a city'?
Input, as one might expect, is once again divided. "Would you all just stop this ridiculous nonsense?" appeals Drina. "It's not called the Medieval City and the Marble City for nothing, you know! Kilkenny is a city."
"Hell no, it's not a city," counters Orla. "It's the towniest town I've ever seen, and I should know because I live in the TOWN centre!"
Even with the natives, alas, no resolution. One contributor, Michael, sums it up best: "I grew up on High Street and was always aware that I lived in Ye Faire City… but we always met our friends 'on the town' or 'down the town' and we spent a lot of our free time walking up and down the town, in our …city?"
Seemingly, the internet will offer no consensus, and we must visit more formal legislation to resolve this conundrum.
Enter the Local Government Act 2001, which lists Ireland's towns and cities, but declines to offer any clarification of how they are identified. The cities are: Cork, Dublin, Galway, Limerick and Waterford – and absolutely no mention of Kilkenny, which is listed formally as a 'Borough' – some sort of offspring limbo, dangling between the statuses of 'city' and 'town', along with its illegitimate siblings Clonmel, Drogheda, Sligo and Wexford.
It seems the strictest definition of Kilkenny's status is interrelated to the status of counties. Cultural identity and GAA teams might lead us to forget, but there aren't 32 counties in Ireland any more, there are significantly more. Dublin is considered a city because its territory does not fall within the remit of a County Council – the areas outside Dublin City are administered by the County Councils of Fingal, South Dublin, or the ineloquently-titled Dún Laoghaire-Rathdown. Similarly, the area of Cork City is outside of the jurisdiction of Cork County Council. Not so with the local authorities of towns and boroughs, whose jurisdiction is complementary to that of the County Councils.
All of this, however, is coloured by a declaration early in the Act. The section that outlines the areas governed, and terms of reference, of the country's City Councils, "is without prejudice to the continued use of the description city in relation to Kilkenny, to the extent that that description was used before the establishment day and is not otherwise inconsistent with this Act."
Aha! So Kilkenny can be referred to as a city, but not in a way that portrays it as actually being one.
Glad we cleared that one up, then…