Archive for the 'parliament' tag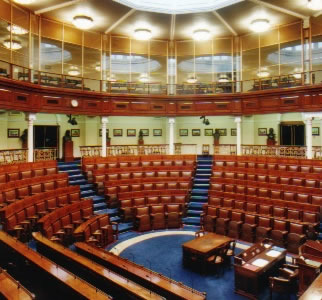 Update, January 25, 2011: This post has now been superseded by a similar site I've built elsewhere, called Who Sits Where?, and which can be found at www.whositswhere.info.
The post below links to the seating as of December 2, 2010, to account for the new seating arrangements on the opposition benches following the election of Pearse Doherty. This arrangement was superseded on January 25, 2011, when the Green Party moved to the opposition benches.
~~
After watching a few electronic votes in the Dáil last week and being a little stumped as to why certain dots in the middle of the opposition half of the chamber were consistently showing up in green and not red, I went looking around for a copy of the Dáil's seating plan.
I wasn't able to find one anywhere online so emailed the clerk of the Dáil's office looking to see if they could help; I got an email back this morning from Gina Long in the Clerk's office (thanks, Gina) with a copy of the seating plan, and a list of who sits in which seat.
Given the amount of people who were keen to get a hold of  a copy of this when I went looking around on Twitter last week I'm throwing up the copy here for public reference. The chart and accompanying lists can be referenced when looking at the electronic voting display on Dáil broadcasts.
The seating plan was supplied in .dwg format so I'm uploading a .jpg copy here for the sake of easy access; the list of seats comes in two formats, one sorted by seat number and the other sorted by each TD's surname in alphabetical order.
Chatting to a friend this morning about the general laying of the political land – including that story about the Donegal County Council annual budget* – we ended up on the thorny issue of parliamentary reform and stumbled across the idea that while a fixed-term parliament (à la the United States) might not be a perfect system, the possibility of having one of two houses sit in fixed terms while the other sit to a maximum length was floated briefly.
In Ireland this would mean that while the Dáil would still sit to its maximum five-year term and be dissolved whenever necessary, while the Seanad would have a fixed term – it was suggested four years, so as to avoid the chance that it might end up running almost perfectly parallel to the Dáil and to stop it becoming as anonymous as the European Parliament (not of course that the Seanad is more relevant than EuroParl currently is).
It struck me as being a pretty good idea – instead of having the American system where either house could be swung by a single election, when polling for either house came around we'd have a fair bit of jostling to win public support. While the Seanad's current inability to stop most Bills from passing outright would likely not be moved, surely we'd be a step farther away from the us-versus-you attitude that destroys so many parliaments?
What do you think – as part of a greater Seanad reform, wouldn't a fixed term independent of all other bodies (the Dáil, local councils, the European Parliament) be a good idea?
* As an aside, if FF are part of an alliance in Donegal County Council that can elect a Mayor, why did they need to rush through a Budget vote when presumably their alliance was going to win it?